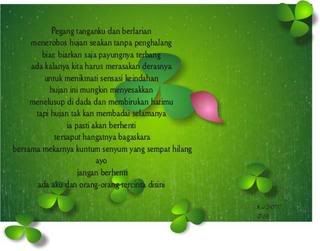 hehehehe...do nothing, dan cuma coba-coba gambar pake correl draw, halah susah ya, sejak selesai sholat subuh laptop Kwing saya bajak, ngutik ini itu dari buku yang terlihat mudah dikerjakan ternyata.........Alakazam mati dah! Mata mpe jereng kok nggak bisa -bisa.
But finally I do it! I try it again and again although i got a headache coz i sat in front of that notebook for 2 hours or more.
Glodaag nggak sih.......pantesan yah kursus correl mahal.


Kemarin juga coba-coba ngutik ini itu pake gif animator, dasar tula...(tambah lit!) mosok sih nggak bisa-bisa. Ck...gaptek kok kebangetan to ya...Ugh makanya dunk, Belajar...belajar!
Hehehehe.......thats why ada pesan yang sangat berarti apalagi kalau bukan Belajarlah sampai ke negeri china, biar dodol nggak berjaya di kepala. Ya kan?